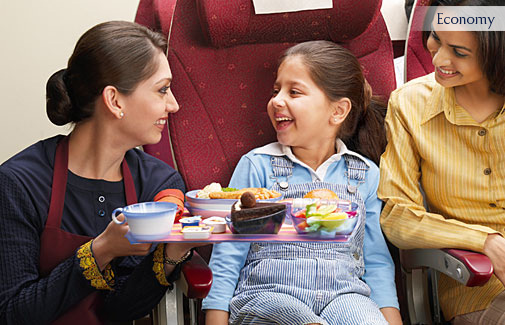 I flew Indian Airlines as a kid (since my dad was working there) and so I have a soft corner for it and will say that Air India's frequent flyer program is good…but the winner here is Jet Airways JetPrivilege.
Now, here I will not discuss the merits of Jet Airways as an airline; I simply aim to tell you why JetPrivilege is the best frequent flyer program in India. Some of the reasons are:
Credit Card Tie-Ups. About two years ago Jet Airways had affiliation with Citibank, when I piled up a lot of miles which my family and I utlised for two years and flew free! Unfortunately, this marriage between Citi and Jet was not to be and Citibank introduced the Premier Miles card. But even today, Jet is the only airline which has tie-ups with American Express, ICICI, and HDFC as co-branded cards and conversion partnership with credit cards issued by Axis Bank, Kotak, Indus Ind Bank, PNB, SBI Card, Standard Chartered, RBS and HSBC (HSBC does this in many countries, for example Australia). So does it make a difference if you take a card from any of these banks? Yes. If you get a co-branded card, the welcome miles and the free ticket/s are enough to pay for at least 2 to 3 journeys. Moreover, the earning potential is accelerated because you will typically get anything between 4 and 6 miles for every Rs. 100 you spend, whereas in conversion partners, the points to JPMiles may be as high as 4:1. e.g. SBI Card allows you to transfer 8000 to points to get 2000 JPMiles.
Other Partners. Jet Airways is not part of any alliance, but instead chose to partner strategically with Abu Dhabi based Etihad Airways who are also not part of any alliance and who are ramping up operations in India. However, as of this writing they have also partnered with as many as 24 airlines who are part of alliances as well as not. Jet has also partnered with about 25 hotel chains, car rentals and more. It implies that you can earn and redeem JPMiles through these partners as well.
 JetPrivilege Website. This section / minisite is well laid out and very clearly spells out every rule and regulation. You can view your miles and tiers as also the expiry of miles at one glance. Booking an award (free) flight is simple and done within the same section. If you book online at Jet Airways website (not on other booking engines) or IVR, you can earn bonus 500 JPMiles and if you check-in online or through kiosks at the airport, then you can earn uoto 250 bonus miles.
Seat Availability. All airlines limit the number of frequent flyer seats, especially if one has a base membership (Blue in case of Jet). So it is better to get your booking as soon as possible to avoid disappointment. Of course if you have higher membership, then the chances of you getting an award flight increases too.
Other Privileges. Separate check-in counters and lounge access is available for JetPrivilege members. If you are holding a Premiere class ticket you will get free access to the lounge even if your membership tier is Blue. There are other benefits like priority check-in, guaranteed seat (higher tiers) and waiver of cancellation fees.