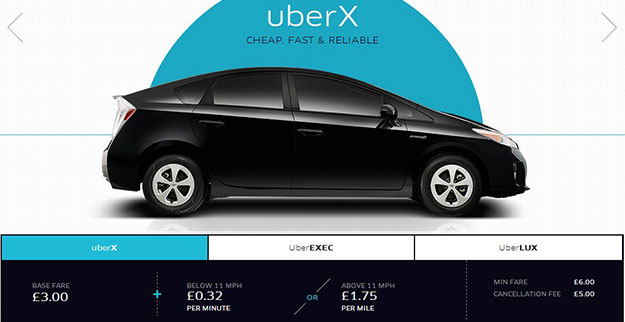 Recently, I travelled to London and was searching for airport transfers between Heathrow airport and London centre. With so many options available ranging from the quick Heathrow Express (train) to the London Underground, coaches and the famous black cabs, one does get overwhelmed by the choices. However, if you look deeper, then you can really optimize on the cost and time it takes for your airport transfer ride and then select the appropriate one.
So, I homed on to transfer by car and not the fast Heathrow express or the cheapest London tube (underground), since both involved hiring of a cab from Paddington to our hotel in Central London – so I was not saving much in terms of money (on the Tube) and time (Express). Instead of the black cab, I tried one of the new car network companies.
So, what is a car network company? It is an exchange for consumers like us and drivers who own cars. You just log on to their website or mobile app, select your source and destination, select the number of passengers and / or luggage and even select the type of car you want (sedan, SUV, limo etc.) and wham, you are given an instant quote. Now, this is applicable not only for airport transfer, but also for point to point transportation in the city and of course is not limited only to London. It differs from the radio cab company in that the cars belong to the drivers and not to the cab company. It essentially offers a web and mobile technology platform with integrated payment and tracking facility to the driver and the consumer. The driver has a stake in it since he gets paid according to the number of fares he gets. His high ratings also get him more customers – so he has to provide better service and environment in the car. This is not so in your regular cabs and the radio taxis, where the driver may not be concerned with the car cleanliness and comfort of passengers.
Therefore, while in London I tried 3 different companies for different transfers – Uber, Kabbee and 365AirportTransfers. I got promotional / coupon codes for all 3 and so was able to reduce the fare by £ 10 on each service! The best service I found was that of Uber – a US based startup, now having presence in 36 countries including India (New Delhi, Mumbai, Bangalore, Chennai & Hyderabad). Uber has star investors like Jeff Bezos (Amazon), Shawn Fanning (Napster), Ashton Kutcher (Actor), Mitch Kapor and Google Ventures among the rest. It has generate enough buzz in tech and finance circles that people are saying it will be the next $100 Billion company.
The best part of Uber is that you get to view the real-time position of your car on a map on your smartphone. Uber has app for iPhone and Android phone. You also get to see the car type, colour, number, driver's name and photo! No time wasting looking for the car. Once in the car, the driver sees the real-time position of the car on the satnav which is also monitored by Uber at their facility. Now, isn't this great for security especially if you are a lady travelling at night? After the ride, your card will be billed automatically and you don't need to haggle with the driver, no hassles of change or being billed extra unnecessarily. You can also rate the ride and the driver after the ride. This will help the driver (if he is good) and other customers get better service. Don't you just love that!?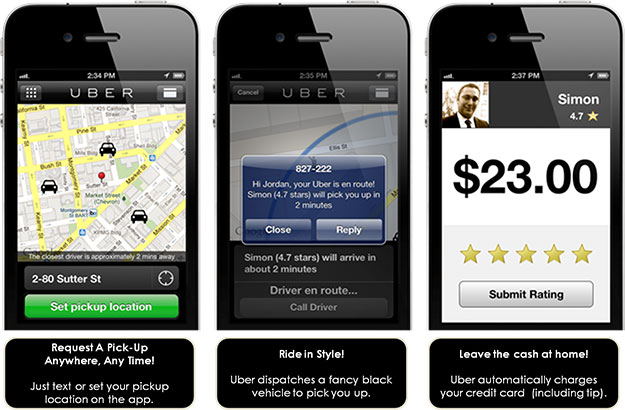 Other companies like Kabbee have similar services, but does not have real-time graphical tracking. You can choose to pay the driver by cash though, if you want. In case of Kabbee, it searches for dozens of car companies. I am sure they will all come up with better version of their software / apps which include features like tracking.
You will all agree that a service like Uber is the  future everywhere. As Uber has begun disrupting the market, it has faced protests by local cabbies in almost every place it begins the service. Even London cabbies threatened with a strike in June this year if Uber is not banned!
But, ultimately customers will reward the company or service which includes them in the core of business and not merely pays lip service to the often touted "best customer service". Moreover, the drivers are happy too. One of our driver in London was a Turkish immigrant and another a Romanian. Both were happy that their earnings have now increased by more than 30% and there is less uncertainty and so much less stress. The Turkish guy was even thinking of buying another car! This is a win-win for everyone.
At present in India, only the high end cars are available on Uber, which implies that the costs are higher than the other cab companies. But, as the market evolves, more and more drivers join the company (there are quality standards to be met), we will get affordable and better service as our counterparts in the US, Europe and SE Asia. Cheers to technology!